A fighter, matchmaker, manager and promoter, Jimmy Johnston is best known for the guiding five men to world titles -- three of which ended up in the Hall of Fame.

Johnston was born in Liverpool, England and came to the United States at the age of 12. He boxed and worked in a Jersey City foundry until the age of 28. He boxed as an amateur and pro bantamweight.

In 1912, he gave up boxing, but not the sport. Although he no longer competed in the ring, he was very much a part of the sweet science. He often leased Madison Square Garden to promote his own shows. Johnston was a colorful manager who often got more publicity than his fighters. He was aggressive, pugnacious and ready to fight at the slightest provocation. Fame sportswriter Damon Runyon dubbed him "The Boy Bandit of Broadway."

Johnston guided Mike McTigue (light heavyweight), Pete Latzo (welterweight) and Hall of Famers Harry Greb (middleweight), Ted Kid Lewis (welterweight) and Johnny Dundee (featherweight) to world titles. He was also partners with Charlie Harvey, who recruited fighters from England. Together, they played a role in helping Jem Driscoll (featherweight) and Owen Moran (featherweight) win world titles.

Johnston's brother, Charlie, was also a manager. Among his charges was Hall of Famer Archie Moore.

Born: Nov. 28, 1875

Died: May 7, 1946

Induction: 1999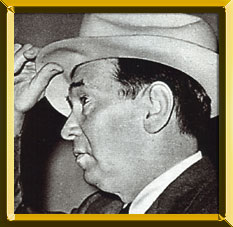 Courtesy of Stanley Weston Collection