Born November 5, 1838 in Northampton, England. Although he rarely scaled more than 150 pounds, the clever and aggressive Goss routinely fought men both bigger and heavier than himself.

At the age of twenty, Goss began his career with a 90-minute victory over George Hares. Goss would not lose a contest until Hall of Famer Jem Mace defeated him in 19 rounds (1 hour and 55 minutes) in London on September 1, 1863. Goss would unsuccessfully challenge his nemesis Mace on two other occasions, including an 1866 championship contest.

In 1876 Goss would claim the world's heavyweight title after defeating Tom Allen on a foul in 21 rounds. Goss met Paddy Ryan, and after getting the best of the action was unable to continue and the contest was stopped in the 87th round of the championship bout. Goss also engaged in an exhibition with Hall of Famer John L. Sullivan before retiring in 1881. He died on March 24, 1885 in Boston, MA.

Born: Nov. 5, 1838

Died: Mar. 24, 1885

Induction: 2003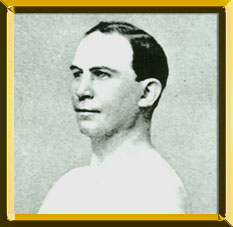 Courtesy of The Ring add text.