(C) Copyright 1997,1998,1999,2000 All rights reserved

International Boxing Hall of Fame   1 Hall of Fame Drive   Canastota, NY 13032  P: 315.697.7095 F: 315.697.5356




CANASTOTA, NY – JUNE 27, 2009 - Canastota's boxing legend Carmen Basilio added another title to his Hall of Fame resume on Saturday, June 27th - high school graduate.

Drafted as a teenager, Basilio served in the Marines during World War II and, because of his military service, never received his diploma. That changed today when the 82-year old Basilio was presented with his high school diploma along with Canastota High School's Class of 2009.

"This is another championship day for me," beamed a proud Basilio.

After his years in the service, Basilio entered the world of professional boxing and captured the welterweight and middleweight titles and was inducted into the Hall of Fame in 1990.

Following the graduation ceremony at Canastota High School, Basilio visited the Hall of Fame.

###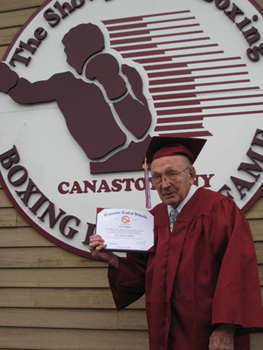 CARMEN BASILIO RECEIVES

HIGH SCHOOL DIPLOMA