(C) Copyright 1997,1998,1999,2000 All rights reserved

International Boxing Hall of Fame   1 Hall of Fame Drive   Canastota, NY 13032  P: 315.697.7095 F: 315.697.5356




REMEMBERING MIDDLEWEIGHT DON FULLMER

    JANUARY 30, 2012 - The International Boxing Hall of Fame joins the worldwide boxing community in mourning the loss of 1960s middleweight contender Don Fullmer, who passed away Saturday (January 28th) in West Jordan, Utah at age 72 following a brave battle with lymphocytic leukemia.

"Don Fullmer was a tough, tough fighter and a real gentleman," said Hall director Ed Brophy. "We were saddened to learn the news of his passing and we offer our condolences to the entire Fullmer family."

Fullmer was undefeated in 65 amateur contests before turning pro in 1957. During his 16 year pro campaign, he posted a record of 54-20-5 (14 KOs) and wins over Jimmy Ellis, Emile Griffith, Joey Archer and Bobo Olson. He challenged Hall of Famer Nino Benvenuti for the middleweight title in 1968 (L 15). Fullmer, along with his brothers Gene and Jay, were actively involved in amateur boxing programs and helping thousands of youths through the sport of boxing.

Don Fullmer was a frequent visitor to Canastota for the annual Hall of Fame Weekend.

###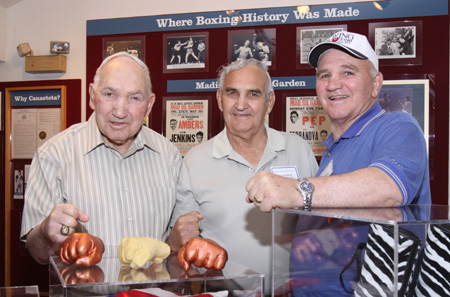 The Fighting Fullmer Bros. - (left to right)


   Gene, Jay and Don - pose with their fist impressions
h  text.