(C) Copyright 1997,1998,1999,2000 All rights reserved

International Boxing Hall of Fame   1 Hall of Fame Drive   Canastota, NY 13032  P: 315.697.7095 F: 315.697.5356




BOXING PROMOTER DONATES

$1 PER TICKET TO HALL

    On July 18, 2008, South Coast Promotions, owned and operated by John and Donna English of Houston, Texas, promoted a professional boxing show co-headlined by Hector "Macho" Camacho and Christy "The Coal Miner's Daughter" Martin. One dollar of each ticket purchased was earmarked for the Hall of Fame.

"We are so appreciative of the dollar per ticket donation from South Coast Promotions," said Hall director Ed Brophy. "The donation, which totaled $3,000, will assist us to maintain our mission to honor and preserve the history of boxing."

John and Donna English have been attending the annual Hall of Fame Induction Weekend for many years. Passionate boxing fans, they are among the first to arrive and last to leave the Induction festivities. John is the owner of Houston-based Horizontal Technologies and has also been an annual sponsor of the Induction Weekend.

"I hope other promoters will follow the English's lead and consider making the one dollar per ticket donation to benefit the Hall of Fame," said Brophy.

.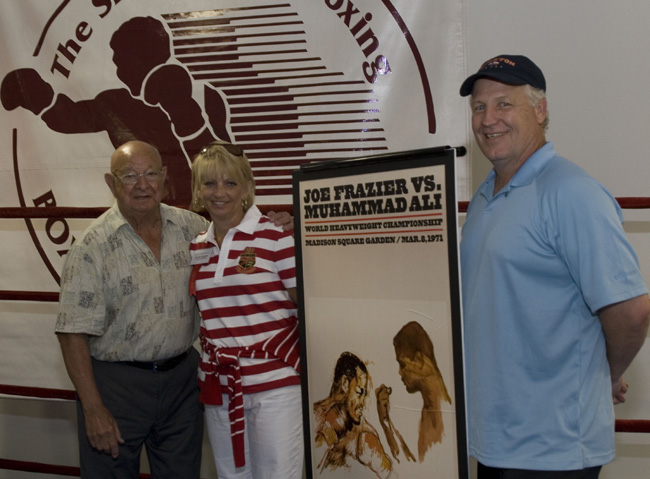 Hall of Fame trainer Angelo Dundee (left) poses with

Donna and John English