(C) Copyright 1997,1998,1999,2000 All rights reserved

International Boxing Hall of Fame   1 Hall of Fame Drive   Canastota, NY 13032  P: 315.697.7095 F: 315.697.5356




ACELINO (POPO) FREITAS TOURS HALL

Just days after his WBO lightweight title winning performance at Foxwoods Resort Casino, Brazil's Acelino (Popo) Freitas visited the International Boxing Hall of Fame for a walk down boxing's memory lane.

Freitas, the reigning WBA/WBO junior lightweight champion, scored a 12-round unanimous decision (116-107 twice and 115-108) over "King" Arthur Grigorian to add the WBO lightweight title to his collection. The bout was televised live on SHOWTIME CHAMPIONSHIP BOXING and Freitas, who made his sixth appearance on SHOWTIME, raised his undefeated record to 35-0 (31KOs).

"Popo" toured the Hall of Fame Museum and enjoyed the many exhibits on boxing's history and the boxers who made it. Freitas spent time admiring the boxing robe and Hall of Fame plaque of former bantamweight and featherweight champion from Brazil, Eder Jofre. The popular champion also signed autographs and posed for pictures with fans during his visit.

BOXING FANS MEET GOLOTA

Andrew Golota, the heavyweight veteran on the comeback trail, recently visited the Boxing Hall of Fame while in Upstate New York for a November 14th bout at the Turning Stone Casino and Resort in nearby Verona, NY.

On the day before his fight, Golota took in the many exhibits on boxing history the Hall offers. The Warsaw, Poland native spent time reading the plaques on the Hall of Fame Wall of two fellow countrymen, Hall of Fame manager Mickey Duff (Krakow, Poland) and Hall of Fame trainer Charley Goldman (Warsaw, Poland). While in the Museum, Golota signed autographs and posed for pictures with fans.

In the Turning Stone ring the next evening for his second comeback bout, Golota headlined a full night of boxing action. A capacity crowd of over 2,000 fight fans saw Golota stop a game Terrence Lewis via 6th round TKO. With the win, Golota raised his record to 38-4 (31KOs).

Following the bout, Golota graciously donated his boxing robe and gloves to the Hall.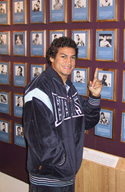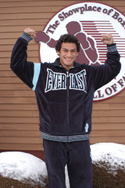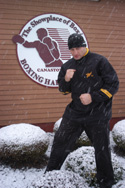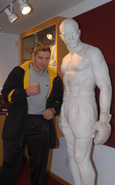 Freitas by Eder Jofre's

Hall of Fame plaque

Golota measures up to

Museum statue

Golota braves winter weather