(C) Copyright 1997,1998,1999,2000 All rights reserved

International Boxing Hall of Fame   1 Hall of Fame Drive   Canastota, NY 13032  P: 315.697.7095 F: 315.697.5356



CHAMPION CARMEN BASILIO BACK IN

MADISON SQUARE GARDEN BOXING RING

CANASTOTA, NY – FEBRUARY 22, 2008 - During his legendary 79-bout career, Hall of Famer and Canastota native Carmen Basilio laced up the gloves to box at Madison Square Garden in the world's most famous boxing ring on four occasions. "The Upstate Onion Farmer" registered three wins (W10 Carmine Fiore in 1954, W10 Italo Scortichini in 1955, W10 Gasper Ortega in 1961) and one loss (L10 Vic Cardell in 1950).

In September 2007, after 82 years of use, the famous MSG ring was retired. It was then shipped 270 miles north to Canastota, New York and on January 12, 2008 the historic ring was assembled for one last time and is now on permanent display in the International Boxing Hall of Fame.

On two occassions in early February, Basilio visited the Hall of Fame in his hometown and stepped back into the ring to recall his fights at the Garden. He is the first boxer to set foot in the ring since it was officially retired and displayed at the Hall.

Basilio is one of the thousands of boxers who competed in the MSG ring. Other Hall of Famers who boxed in it include Muhammad Ali, Joe Frazier, Joe Louis, Sugar Ray Robinson, Henry Armstrong, Roberto Duran, George Foreman, Emile Griffith, Nino Benvenuti, Tony Canzoneri, Willie Pep, Ken Buchanan, Tiger Flowers, Max Schmeling, James J. Braddock, Floyd Patterson, Lou Ambers, Rocky Graziano, and Tony Zale among many others.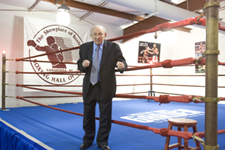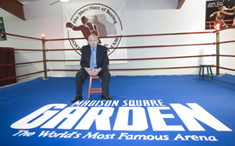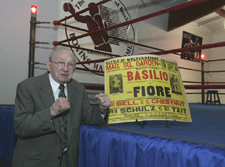 Basilio center ring once again

Basilio poses with poster from 1954 MSG bout with Carmen Fiore