(C) Copyright 1997,1998,1999,2000 All rights reserved

International Boxing Hall of Fame   1 Hall of Fame Drive   Canastota, NY 13032  P: 315.697.7095 F: 315.697.5356




TWO-TIME WORLD CHAMPION TRACY HARRIS PATTERSON

VISITS INT'L BOXING HALL OF FAME

  CANASTOTA, NY - AUGUST 6, 2012 - Two-time world champion from New Paltz, NY Tracy Harris Patterson recently visited the Hall of Fame Museum. Patterson was en route to Rochester, NY to work the corner of undefeated featherweight Patrick "The Punisher" Hyland on Wednesday, August 8th.


During a 16-year career, Patterson won the WBC super bantamweight title (1992-94) and the IBF super featherweight title (1995). Patterson and his father, Hall of Fame heavyweight champion Floyd Patterson, made history by becoming the first father – son to win world championships.  Patterson, who retired in 2001, holds a pro record of 63-8-2 (43 KOs) that includes wins over Thierry Jacob, Jesse Benavides, Eddie Hopson and Hall of Famer Daniel Zaragoza.

Below are a few snapshots of Patterson's visit to "Boxing's Hometown." Click on images below for a larger view.
###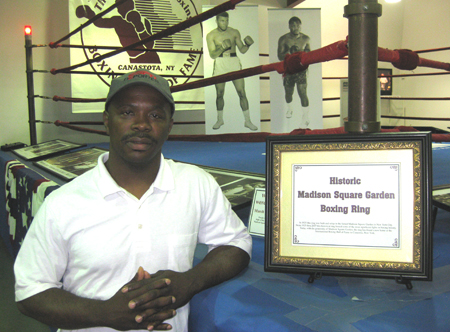 Tracy Harris Patterson ringside to the famous MSG boxing ring