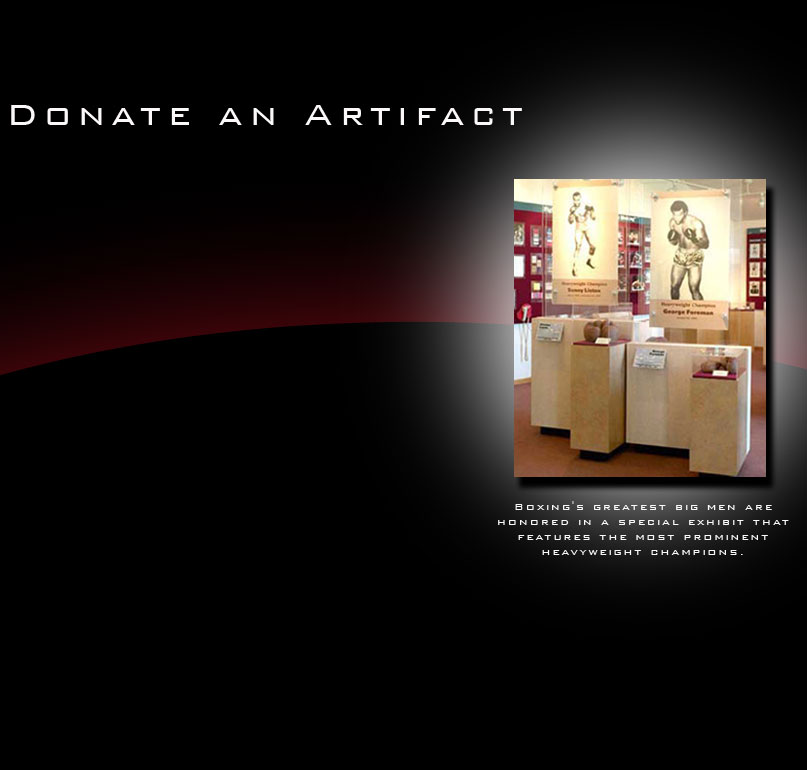 Gifts of objects associated with boxing's history are essential to the growth and educational potential of the International Boxing Hall of Fame and are actively sought by the Museum. Past donations have provided our Museum with the outstanding collections that continue to appeal to all generations from varied backgrounds throughout the world.

There are, however, many great stories from the past and present which need acknowledgment in our exhibition program. The International Boxing Hall of Fame and Museum acquires appropriate objects for its collections solely through gifts from the general public. We invite you to contribute to the Museum's holdings and become an active participant in the Hall of Fame's future.

If you own an object that is part of boxing's rich history and you would be interested in sharing it with fans everywhere, not only at the present time, but for generations to come, then we would like to hear from you.

Write:

International Boxing Hall of Fame

1 Hall of Fame Drive

Canastota, NY 13032

Phone: (315) 697-7095, Fax: (315) 697-5356

(C) Copyright 1997,1998,1999,2000 All rights reserved

International Boxing Hall of Fame   1 Hall of Fame Drive   Canastota, NY 13032  P: 315.697.7095 F: 315.697.5356